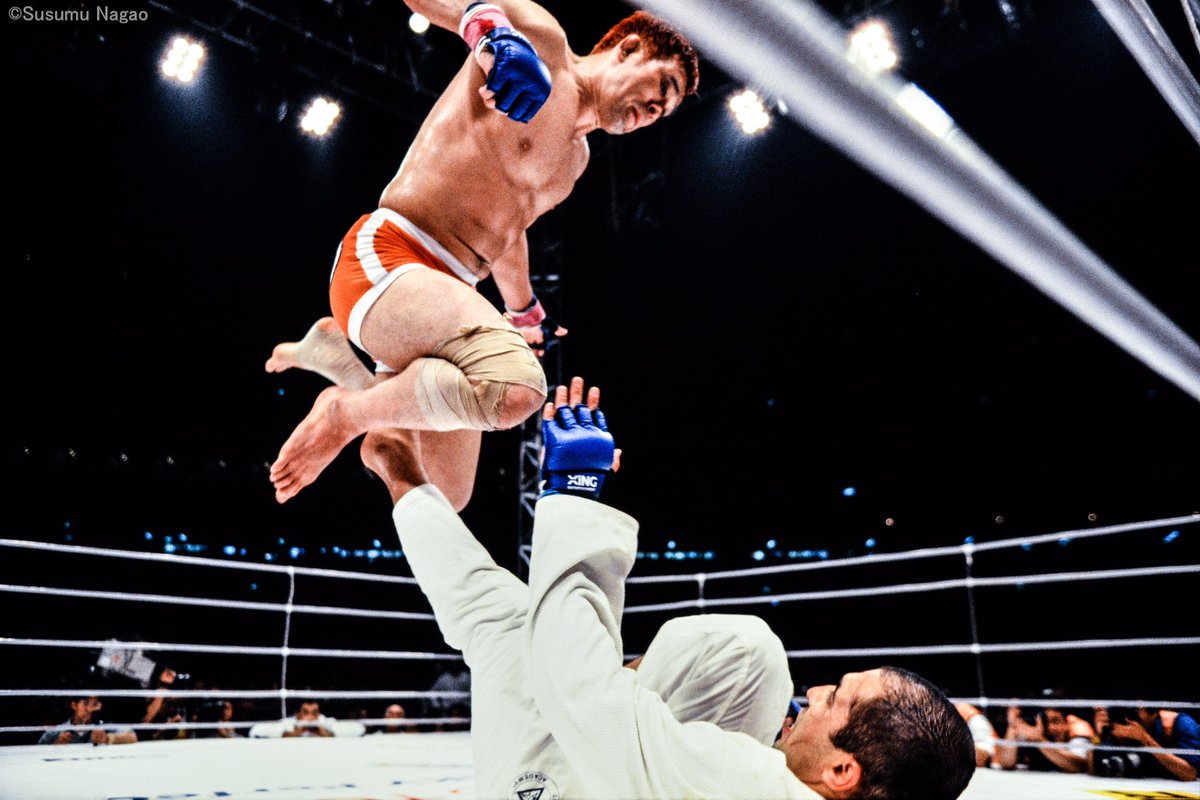 Japanese mixed martial arts legend Kazushi Sakuraba is turning 50 years old today!
Most newer fans, who have only been introduced to the sport through the "Ultimate Fighter" reality show or the rise of Conor McGregor may not know who Sakuraba is or how he is relevant today.
Let me start by stating the fact that Sakuraba has been the sport's biggest star for a five-year period (1997-2002) during what can be called the "formative years". While the UFC was fighting to barely stay alive at the time, Sakuraba and his peers were routinely filling 50,000-seat arenas.
Just how was this unimpressive-looking grappler in his orange shorts and with the (sometimes) goofily orange-colored hair able to become such a mega star?
To understand his popularity, we have to take a quick excursion into Japanese pop culture: In "shinbun", the Japanese newspapers, results of pro wrestling matches were printed on the same page as those from boxing, kickboxing or mixed martial arts fights. The reason for that is that the style of Japanese pro wrestling cannot be compared to the cartoonish presentation fans stateside were being fed by WWF and WCW during large parts of the 80s and 90s. Instead it much more resembled a real fight.
Sakuraba was part of pro wrestling promotion UWF International (UWFi) alongside founder and leader Nobuhiko Takada and stablemates Kiyoshi Tamura, Yoshihiro Takayama and Yoji Anjo.
Even today, you will sometimes hear the declaration "pro wrestling is the strongest" or see it printed on a t-shirt. Common belief in Japan in the early nineties was that professional wrestlers were indeed the toughest and most dangerous fighters in the world.
Enter Brazilian jiu-jitsu practitioner Rickson Gracie, who made a name for himself by winning an international eight-man, single night tournament in Tokyo in the summer of 1994 and then making quick work of Anjo in one of his infamous dojo challenges.
Rickson went on to win another Vale Tudo Japan tournament the next year and then faced Takada at PRIDE.1. Takada was a charismatic worker who had many memorable matches inside the pro wrestling ring, his only problem was: He couldn't fight. As a result, Rickson beat him by armbar in less than five minutes.
With pro wrestling's reputation taking a serious hit and attendance figures waning, "Kakutō" or real fighting became more and more popular. With a legitimate background in amateur wrestling, Sakuraba was poised to do significantly better in real competition than Takada who had no extensive combat sport experience when he stepped into the ring.
Following wins over eventual UFC champions Carlos Newton and Vitor Belfort in 1998-99 to kick-start his own PRIDE career, Sakuraba began what would arguably become the greatest rivalry in the history of the sport by facing his first Gracie. Royler, both the Brazilian Jiu-Jitsu as well as the ADCC world champion at the time, had to submit to Sakuraba's patented kimura. The win was not without controversy as Royler didn't tap, yet the referee stopped the fight and awarded Sakuraba the win.
This prompted Royce Gracie, winner of three of the first four UFC tournaments, looking to avenge his brother. In a fight for the ages, Sakuraba defeated Royce in an epic 90-minute marathon match in the quarterfinals of the Pride Grand Prix 2000. And if this wasn't enough, he battled Ukrainian knockout machine Igor Vovchanchyn, the most feared striker at the time, for fifteen minutes on the same night before having to throw in the towel due to exhaustion.
That night, Sakuraba's star was born.
He went on to fight his third Gracie in the summer of 2000 as he took on Renzo who was the reigning ADCC champion and just came off a close decision with Sakuraba's UWFi stablemate Tamura. In order to make sure that there was no controversy in their fight like in the one against Royler, Sakuraba broke Renzo's arm using his kimura hold prompting the referee to stop the fight. To Renzo's credit, the thought of tapping out to the submission never once crossed his mind.
To complete his quadruple over the Gracie family, he also won a unanimous decision over the "black sheep" Ryan Gracie (RIP) in December of 2000. To this day, no other fighter has come close to dominating MMA's "first family" the way the "Gracie Hunter" did. And with fewer and fewer Gracie's entering the sport nowadays, it's likely that his four wins will be a record that is unlikely to be broken.
Parallel to Sakuraba's success in the PRIDE middleweight (93kg) division, a weight class that he always came in underweight for, a young foreign challenger emerged by the name of Wanderlei Silva. The "Axe Murderer" had made a name for himself by employing a ruthless fighting style, buzz-sawing through his opponents. Twelve of his sixteen fights leading up to the first encounter with Sakuraba had ended by knockout.
Although Saku was unable to win neither the first, nor the second two meetings with Silva, losing all three of them by knockout, it was this legendary feud that put Wanderlei over as arguably the biggest foreign star in PRIDE history – only later rivaled by Mirko Cro Cop and Fedor Emelianenko.
What made Sakuraba special was the fact that during a time when fights were much more methodic and static, he had an all-out action style and did unorthodox, wild things in the ring like cartwheel guard passes, flying stomp kick attacks or his famous Mongolian chops. He tried to implement pro wrestling techniques in his fighting style and more often than not got away with it.
More than everything else, he was one of the first sports entertainers before there was sports entertainment. He understood the fact that he competed for people's time and fans showing up to watch him perform, did not necessarily just do it because they wanted to see him win, but because they were intrigued which new moves or crazy tricks he would come up with this time.
Sakuraba was one of my heroes when I was still in university. I could not wait for the new VHS tapes with PRIDE events on them to arrive. With the birth of the internet, I would get up in the mornings to watch pixelated live streams of the shows. Great memories this man was an integral ingredient of and that I am forever grateful for.
I'm wishing you nothing but the absolute best for your second half in life. 桜庭さん、誕生日おめでとうございます!
📸: Susumu Nagao